Predictive Solutions Imago Pro
A comprehensive professional analysis and reporting solution
PS IMAGO PRO is an analytical engine based on IBM SPSS Statistics that provides data access and a wide array of analytical techniques with an additional set (PS IMaGO Pack) of procedures used to prepare and analyse data and visualise results. PS IMAGO PRO also supports users in the preparation and management of automation jobs. PS IMAGO PRO allows you to prepare attractive-looking, professional analytics reports and charts, beyond what's possible with standard SPSS functionality, and easily share them with business users, quickly and with minimal effort.
In my opinion, PS IMAGO PRO is a long-awaited tool for users of IBM SPSS Statistics. It offers to the analyst the opportunity to present the results in an attractive and clear manner. One of the key utilities is sharing the reports through a web browser, also with people who are not IBM SPSS Statistics users. PS IMAGO PRO can be used in both marketing as well as financial departments.

Łukasz Gradowski, BI Market Analysis Expert Business Intelligence Department, MAKRO Cash and Carry, Poland.
PS IMAGO PRO Components
PS IMAGO PRO is a comprehensive solution consisting of the following components:
IBM SPSS Statistics – analytical engine enabling the execution of a wide range of analyses
PS IMAGO Pack and PS IMAGO Pack PRO – set of analytical and reporting procedures building on the functionality of IBM SPSS Statistics and its components to streamline and accelerate the work of the analyst.
PS IMAGO Designer – application for the design and preparation of analytical reports for immediate sharing with business users
PS IMAGO Portal – web environment for sharing analytical reports with business users
PS IMAGO Process – application allowing the user to automatically create and update analytical reports.
I really liked the PS IMAGO Designer application, allowing you to create a presentation from the elements of the IBM SPSS Statistics report and then publish it on a server, with the possibility of sharing it with strictly defined groups of recipients. This tool seems to be a great option for persons managing companies or institutions, making decisions on the basis of up-to-
date indicators and reports delivered them. Perhaps the most noteworthy is the ability to easily and quickly update and graphically process information transmitted this way.

Dr Joanna Karłowska-Pik, Nicolaus Copernicus University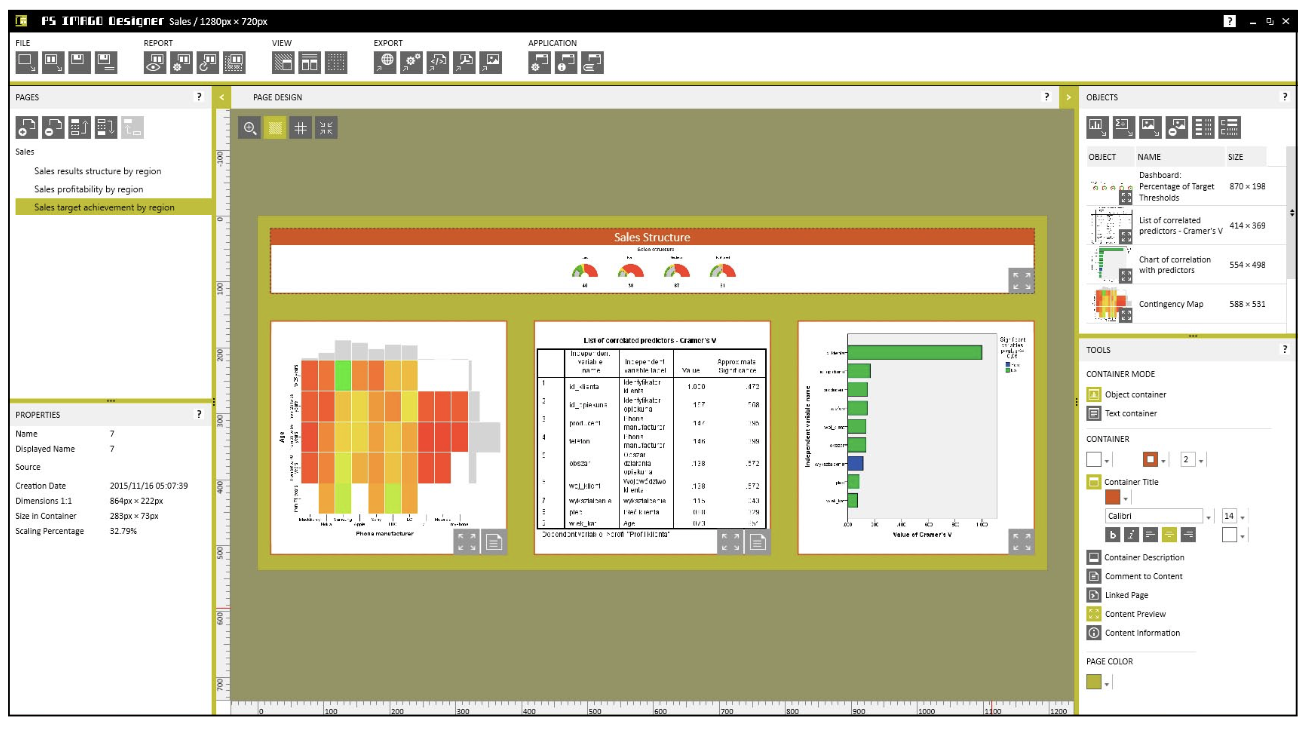 Who is PS IMAGO PRO designed for?
PS IMAGO PRO is an invaluable analysis and reporting solution for all those who need:
To quickly create professional analytical reports
An easy way to share analytical reports with authorised business users
Procedures for flexible access and data preparation
A complete set of basic and advanced data analysis techniques
A wide range of professional, attractive forms of visualization
The possibility of creating attractive analytical reports in accordance with the requirements of business users and institutional guidelines
The ability to automatically create and update analytical reports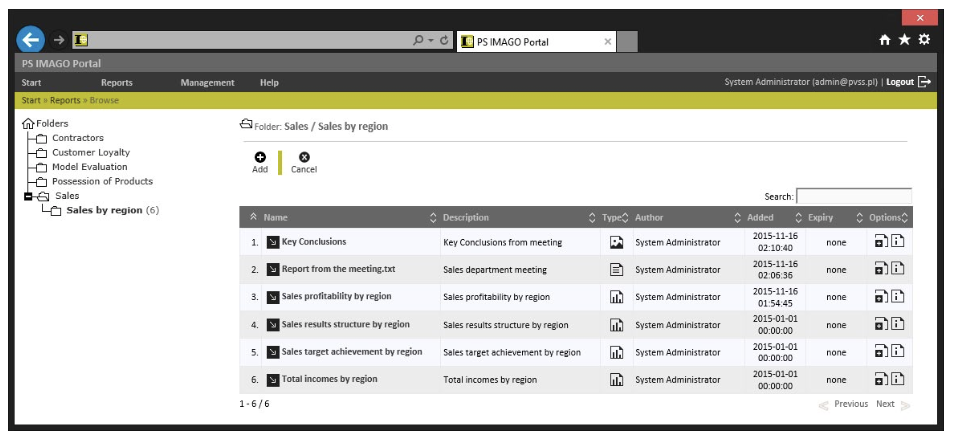 Why PS IMAGO PRO?
PS IMAGO PRO delivers attractive and professional analytical reports that can be prepared and shared quickly and with minimum effort. This is thanks to this solution's combined elements: access to data in various systems; a world-renowned analytical engine (IBM SPSS Statistics) with an abundance of statistical algorithms; a professional analytical report design tool; a secure environment for publishing reports; a process for automatically updating analytical reports as the source data changes.
Key benefits of using PS IMAGO PRO are:
Big time savings in the preparation of strategic and operational reports, plans, budgets, projects and tasks
Timely and accurate diagnosis of business problems
Freedom from large information systems and restrictions they impose to the form and levels of report aggregation
Improvements to the planning process and business performance management
Wider availability of reports across an organisation with a friendly licence model
Increased customer satisfaction with better profiling and faster reactions to a changing business environment
Improvements to financial reporting that can help prevent financial mismanagement
Better use of available resources and a solution for companies and public institutions with organisational and technical limitations to report creation and distribution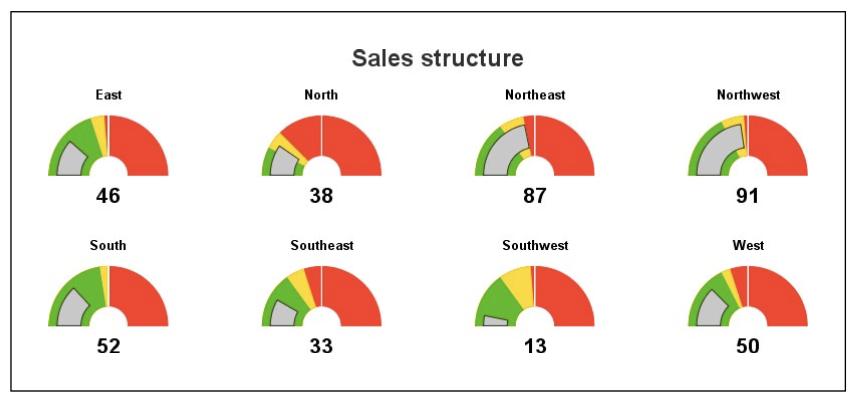 What procedures are available in PS IMAGO PRO?
IMAGO PRO
Menu
Procedures
Data
Data description
Data inventory
Delete constant variables
Delete variable duplicates
Balance distribution
Global labels
Transform
Dichotomous coding
Compute global values
Recode small categories
Monotonic recode
Normalization of variables
Analyse
Significant variables Chi-squared
Correlated variable V-Cramer
Significant variables CHAID (requires Decision Trees)
Inequality measures
Graphs
Stacked ring charts
Multidimensional scatter plot
Scatterplot with distribution chart
Nightingale's Rose
Layered bar chart
Marimekko chart
Radar chart
Contingency map
Heatmatrix map
Table bar chart
Table error bar chart
Table boxplot chart
Table series chart
Table histogram
Dashboard
Table layered bar chart
Percentage of Target Bricks
Percentage of Target Gauges
Percentage of Target Thermometers
Percentage of Target Thresholds Bars
Percentage of Target Thresholds Thermometers
Percentage of Target Thresholds Gauges
Output
Footnote statistics
Table colouring
Output actions
Pricing for PS IMAGO PRO