Unlock the power of structural equation modelling
What is IBM SPSS Amos?
IBM SPSS Amos is powerful structural equation modelling software that enables you to support your research and theories by extending standard multivariate analysis methods, including regression, factor analysis, correlation, and analysis of variance. With SPSS Amos you can build attitudinal and behavioural models that reflect complex relationships more accurately than with standard multivariate statistics techniques using either an intuitive graphical, or programmatic user interface.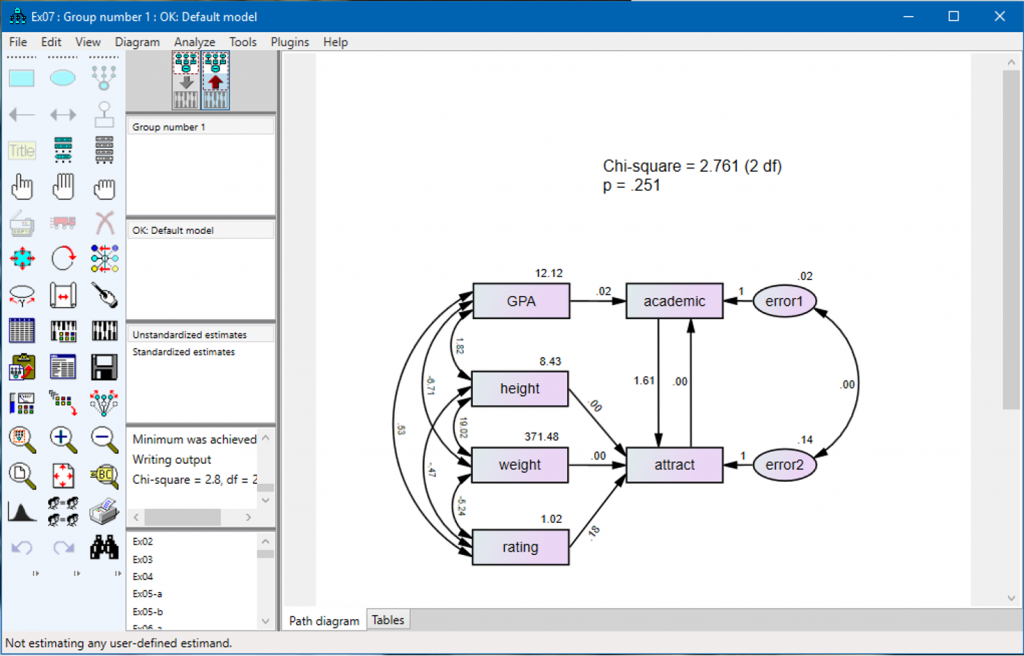 What is structural equation modelling?
When you conduct research, you're probably already using factor and regression analyses in your work. Structural equation modelling (SEM) can take your research to the next level. SEM (sometimes called path analysis) helps you gain additional insight into causal models and explore the interaction effects and pathways between variables. SEM lets you more rigorously test whether your data supports your hypothesis. You create more precise models – setting your research apart and increasing your chances of getting published.
IBM SPSS Amos makes structural equation modelling (SEM) easy and accessible
IBM SPSS Amos builds models that more realistically reflect complex relationships because any numeric variable, whether observed (such as non-experimental data from a survey) or latent (such as satisfaction and loyalty) can be used to predict any other numeric variable.
Quickly build graphical models using IBM SPSS Amos' simple drag-and-drop drawing tools. Models that used to take days to create are just minutes away from completion. And once the model is finished, simply click your mouse and assess your model's fit. Then make any modifications and print a presentation-quality graphic of your final model.
Its approach to multivariate analysis encompasses and extends standard methods – including regression, factor analysis, correlation and analysis of variance. New capabilities include bootstrapping of user-defined functions of the model parameter for increased model stability.
A non-graphical, programmatic approach, introduced with SPSS Amos 20, improves accessibility for those who can benefit by specifying models directly. Its scripting capabilities improve the productivity of users who need to run large, complicated models, and make it easy to generate many similar models that differ slightly.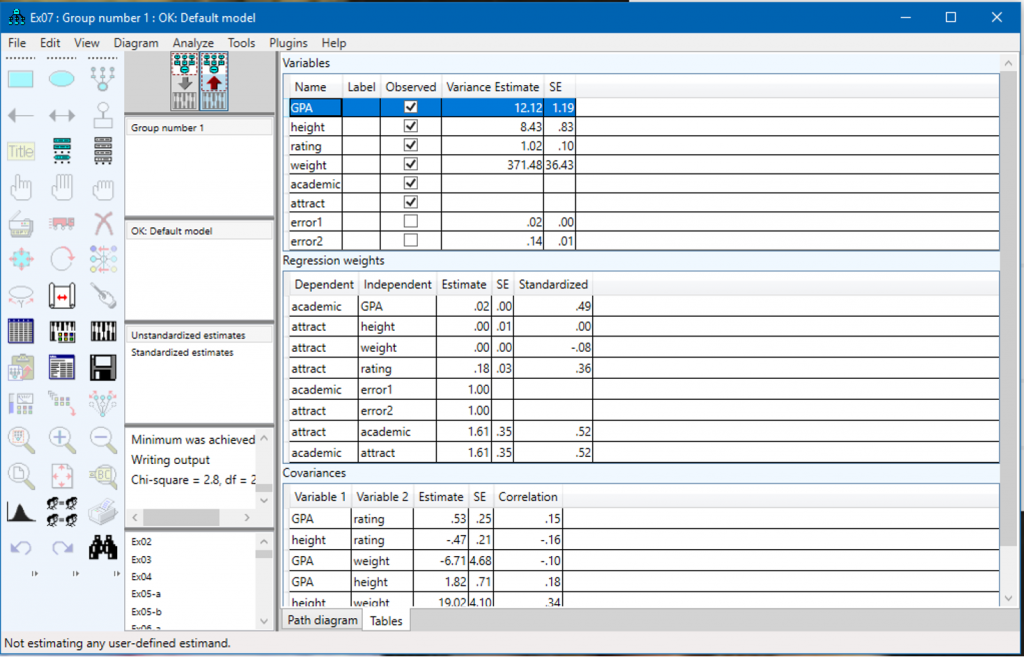 What can IBM SPSS Amos do for you?
On-screen model to results – Create path diagrams of your analysis using drawing tools, rather than by writing equations or by typing commands.
Models that best fit your data – Offers exploration techniques, such as structural equation model specification search, to help choose a model from a large number of candidates.
Non-graphical modelling – Provides easy ways for programmers and non-programmers to specify a structural equation model without drawing a path diagram.
Find unexpected relationships – After you fit a model, the SPSS Amos path diagram shows the strength of the relationship between variables.
Support your research – Extends standard multivariate analysis methods, including regression, factor analysis, correlation, and analysis of variance
Download our IBM SPSS Amos white paper to find out more.

How researchers use IBM SPSS Amos
Psychology – Develop models to understand how drug, clinical, and art therapies affect mood
Medical and healthcare research – Confirm which of three variables –confidence, savings, or research – best predicts a doctor's support for prescribing generic drugs
Social sciences – Study how socioeconomic status, organisational membership, and other determinants influence differences in voting behaviour and political engagement
Educational research – Evaluate training program outcomes to determine impact on classroom effectiveness
Market research – Model how customer behaviour impacts new product sales or analyse customer satisfaction and brand loyalty
Institutional research – Study how work-related issues affect job satisfaction
Business planning – Create econometric and financial models and analyse factors affecting workplace job attainment
Program evaluation – Evaluate program outcomes or behavioural models using SEM to replace traditional stepwise regression