Introduction to IBM SPSS Modeler
27 January 2017 @ 3:00 pm

-

4:00 pm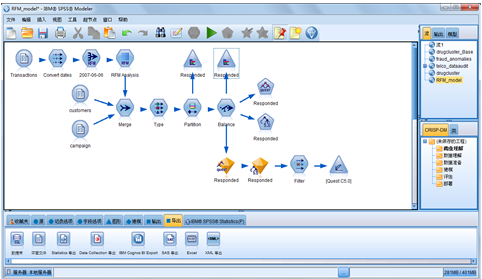 Please join this free educational event in which you'll learn about getting started with IBM SPSS Modeler – one of the most highly-regarded analytical software platforms.
There's a lot of talk about big data and predictive analytics at the moment, and IBM SPSS Modeler is at the forefront of this current wave of interest as one of the most powerful yet accessible analytics tools available. If you've been thinking about how your organisation could benefit from predictive analytics then this session will show you how easy it is to get started with IBM SPSS Modeler.
During the session we will walk you through the three key areas that will enable you to make truly effective use of this powerful analytical software – getting your data into Modeler, using it to build effective predictive models that give you real insight, and deploying your results throughout your organisation.
In just one hour you will learn:
How to read your data, whatever the source or format, into Modeler
How to merge and format your data correctly to ensure simple, faster analysis
How you can easily create filters and new fields in order to make the most of the data you already have, for example by taking customer ages and creating a new variable of age group
The steps involved in building easy and effective predictive models that give you the answers you need in order to develop your business understanding
How you can select with confidence the most appropriate modelling technique for your specific objectives
How to interpret your findings and use the output of your model as the basis for effective business decisions
How to effectively deploy your results throughout your organisation so that you can implement concrete business changes based on your findings
Who should attend?
This event is aimed at non experts. This event will be particularly relevant for you if:
You are considering using predictive analytics but are not sure where to start
You are currently using some analytics freeware but want to examine fully supported, more powerful alternatives
You are currently using spreadsheet-based analysis, manual coding or traditional BI/MI reporting but would like to move beyond this
In short, anyone who is interested in finding out more about predictive analytics will benefit from attending. You do not need to already be doing any kind of predictive analytics or have any pre-existing statistical knowledge in order to benefit.